"The history [of spices] is so rich, and so deep, and super political, and for me, it's never ending, which is thrilling! I will never know all there is to know."
I could have listened to Claire Cheney, founder of Curio Spice Co., talk about spices for hours— actually, all weekend. Claire's enthusiasm and curiosity for food is infectious. The stories of her dreams and ambitious travel plans usually wrapped up with, "So that's what I did!" A general can-do woman, Claire is an all-around sensation, and chatting with her was a top ten experience.
Though she grew up on the South Shore of Massachusetts, Claire also claims Maine as part of her influential environments. She and her family would visit their home in rural Maine every summer where Claire feels she cultivated a real relationship with plants and the environment. As kids, she and her brothers would play a lot of "army" in the woods: "crawling around, creating little 'traps'— where you dig a hole and put sticks over it. Soo sneaky." With the help of her dad, she also grew an herb garden each summer: "I was obsessed with lavender! It seemed so British. I was maybe a very young romantic, wanting to be in a Jane Austen novel...." I can report that Claire does a very good faux-British accent. I can also report that we sat over tea and pastries during this interview like true Anglophiles.
Growing up, Claire was the self-described nut-job in high school who put up RECYCLE OR DIE posters. It was in her blood to protect the environment. Curious to see other parts of the U.S, she ventured to Ohio at the age of 18 to attend Oberlin College as a double-major in Environmental Studies and Creative Writing.
In college, Claire got highly involved in Oberlin's cooperative eating system. "About 60% of the students ate in co-ops, which were self-managed. So, instead of tater tots and grilled cheese, people were eating tempeh and kale salad. It taught me a lot about cooking and sourcing food. Through the co-op system, I went out to all these Amish farms, where the farmers don't look at you or talk to you really, because you're a woman. I used to go with this other guy in the program, and they would only talk to him (except for one guy, who was a really progressive Amish farmer). So we would go and talk about the crops and volume, and seasons, and how they were processing crops. I helped organize a local food conference at the college, and we asked some of the farmers to come in, and they rode in on their buggies- it was so cool to have them come, and we had this big feast!"
Outside of her co-op duties, Claire was working on a poetry project, where she was writing a series of poems about flowers, and working in botanical references and historical references, and one of the poems was about the saffron crocus. "When I was researching it, I found this book with an article about ancient frescoes from Bronze Age Greece, depicting women harvesting saffron and offering it to a goddess."
"This is from a building that was preserved when a volcano blew up and preserved everything in ash (sort of like Pompeii). So this really remarkable section of a village was preserved, and it was only discovered in the 1970s. Some of the other frescoes are also nature-focused, but this one is one of the most complex, and to this day, scholars aren't really sure what it means. Why was there this saffron goddess accompanied by a blue monkey? There's a scene in a separate painting of a woman who has injured her toe on a rock; she's holding her foot, and there's blood coming out of it, but there's a saffron crocus near it, so scientists think maybe that symbolized the medicinal uses of saffron in ancient Greece(?). There's this whole theory on the relationship between females and saffron, and saffron being used specifically for female ailments. Modern studies today have shown that saffron actually does aid in specifically female ailments in the form of a capsule, or tea. So I got so obsessed with this remarkable little sliver of history! For some reason, it just really resonated with me, and I was like, I'm so interested in this. I wanna learn more about it!"
So much so that Claire self-published a beautiful book titled Art of the Harvest about five years after she graduated college, and through a Kickstarter campaign, raised the money to travel to Greece to do more research and work on a saffron farm. Right after college graduation, however, Claire moved back to New England where she worked at a coffee shop in Dorchester as her first foray into small, family-owned business. She helped certify the company to become an organic handler, and was intrigued by the fact that they were starting to talk about single origin coffees.
"I think maybe as recently as ten years ago, the specialty coffee industry started to take off, and people started to care about not just how their coffee tasted, but where it came from, and it became less of a commodity and more of a specialty. And that really fascinated me from an environmental perspective, but also the product is way more interesting and delicious. This small coffee company was sort of riding that wave. I got really involved, and I even went on one origin trip to El Salvador to visit a coffee farm. I went with a colleague who spoke Spanish, and we did interviews and video-taped stuff... So I went really far and really deep into coffee and got enthused about building a relationship with farmers abroad."
"I even started training to be a competitive barista! My last year at the company, I competed in the National Barista Championship! I did not win, but it was quite an experience— super intense! It's sort of similar to a lot of the cooking shows. And if there's anything I'm addicted to, other than coffee… it's 'Chopped.' So good. VERY competitive. It's all down to the most minute details."
"At the time, I was also interviewing people here in Boston, because I was trying to get an article published. I interviewed Chef Ana Sortun at Oleana, because of her book, Spice: Flavors of the Eastern Mediterranean, and her knowledge about Middle Eastern cuisine and Mediterranean cuisine. Ana and I struck up this great rapport, and later she wrote to me, and offered me a job at Oleana. I was an Assistant Manager at Oleana, and Ana became a great mentor. She was really thrilled that I was excited about spices. I really lucked out— the fact that she was such a great teacher. And they were all so encouraging, and helped with my Kickstarter, so I took a few weeks off from Oleana to travel to Greece, and did a saffron harvest."
"There's a three-week harvest period in October every year. During those three weeks, you hardly sleep. You just harvest and process saffron. And it smells amazing. It's SO fragrant."

This open jar of saffron sat between us for almost the whole morning, and it smelled SO much like dried figs, pomegranate and white flowers...but mostly figs. I wish every day could start with smelling this saffron!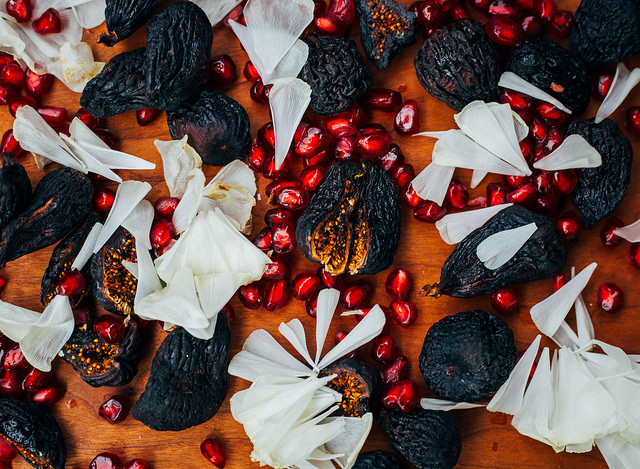 Claire explained the saffron harvest step-by-step: "You pick the crocus (and after so many, your fingers turn kind of purple from the petals), and sort of crunch it in your hand so the petals are released from the sexual organs of the plant, which are the valuable part. Then you throw them in a basket and hope the petals release. The farmers bring their big baskets of petals back to the homestead, and then you do what's sort of a winnowing process, which means that you pour them onto this table that sort of spins with a fan on it, and the fan blows all the petals away, and the stigma and the stamens catch on this fabric on the table. Then the petals are just sort of swept up and dumped in a pile on the side of the road. So there are these purple blobs everywhere driving along the road-- so funny and weird. But beautiful. And then those parts left on the table (the male and female part-- the stamen is the yellow part, the stigma is the red part, and those are connected) are removed and put on drying trays. After those are dried, then all winter, it's mostly women who separate the male part from the female part. And that's all done by hand. And it's crazy-intensive. I found it so interesting: it's the female part that's the valuable part, and it's being used for female ailments...And there's this Greek fresco with women...! Then finally, the threads are usually sold whole. Now I source saffron for one of my blends through that farm."
When Claire returned to the Boston area, she was later transferred to Ana Sortun's other restaurant, Sofra, where she led the blending and selling of spices, then started inventing her own spice blends. After about three years at Sofra, Claire was wanting to visit her brother who lived in Thailand, and thought, "this seems like a great opportunity to do something really impulsive, and move to Thailand! Because, what better time? I have a free place to stay! And I didn't know how long he and his wife were going to be there. So that's what I did!"
"At the time, I wasn't dating anyone, so it was sort of perfect. And I also had this inkling in my head of pursuing a spice career. So I thought I could go research spices in Southeast Asia, and see where it takes me. It turned out to be hilarious timing, because maybe two months before I left, a friend of mine introduced me to a guy she wanted me to meet, so I went on this blind date, and totally fell head over heels for him. And I thought, either my move to Thailand is going to be a deal breaker OR maybe he'll think it's cool. And fortunately, it was the latter."

After eight months of dating, Claire's now-husband, Mark, visited her in Thailand and proposed. During the four months that Claire lived in Thailand, she traveled by herself to Cambodia, Vietnam, Sri Lanka and other parts of Thailand.

"Sri Lanka was wonderful, and overwhelming at the same time. It's actually my favorite spice destination. It's so beautiful— it's this amazingly dense island off the tip of India that has a really rich history of various countries occupying it, specifically for the monopoly on the cinnamon trade. The country is fascinating— they've had a lot of civil war; it's a complex religious landscape. There are these temples kind of hidden in the jungle. The food's really cool and interesting. I made a point of trying to organize this trip out to a cinnamon farm where I would learn how to peel cinnamon. SUCH a funny experience. It wasn't harvest season, but we went through the whole process of peeling cinnamon, and all the tools involved, and it's a really wonderful, interesting process. And that was the type of thing I was really excited about. Now I have a relationship with a big co-op there that is organic, and some of their farms are biodynamic, which is really unusual in the spice industry. And amazingly, only about 2% of the agriculture in Sri Lanka is organic. So it's a really important area to try and do business with, and develop."

"Traveling by myself during a time that was definitely a transition time was really profound because I just had this amazing space to be able to explore and meet people. It was a very open-minded, peaceful experience. I'm all about travel as a way to expand your mind. That's also what I feel about cooking, in terms of cooking other foods. Food ethnography fascinates me, and I think that spices are a central part of that. Like saffron: there was this revered spice that they were offering up to a goddess! So I got excited about pioneering this direction of getting people excited about the specific origins of spices, and the relationships that those spices have with people's cultural heritage. The history is so rich, and so deep, and super political, and for me, it's never ending, which is thrilling! I will never know all there is to know."
Claire launched Curio Spice Company in June 2015 and is currently selling six spice blends. She buys in small quantities and grinds everything herself. "Curio Spice Company offers top quality spices sourced directly from farmers and producers, using the highest standards in organic and fair trade agriculture. Curio Spice Company is a local, independent, woman-owned Public Benefit Corporation working to provide a better life for farmers, protect the environment, and unite people around food."
"I'm mostly excited about the home cook. To get more people cooking at home is great. I'm not trying to change the way people cook, but I'm at least trying to get them enthusiastic about cooking and trying new things, and learning the story behind the food."
Spice Tasting
I had the pleasure of smelling and tasting through all six of the Curio Spice Co. blends. Each of the flavors tell a different story of Claire's travels and experiences. In between smelling and chatting and tasting, Claire pulled out other exciting things for me to smell, like fenugreek, Chios mastic and Persian lime. Every nook and cranny and drawer in Claire's home seemed to be filled with these beautiful spices.

My favorite of the Curio Spice blends was the Da Lat: a distinct blend of Vietnamese cocoa nibs, coffee, black pepper, star anise, ginger, coriander, turmeric and cassia. These were the most prominent aromatics we discussed:
Curio Spice Co. blends are available in the Boston area at Boston Public Market, American Provisions, Boston General Store and Siena Farms (to name just a few!), as well as various locations in Cambridge, Somerville and even Maine, Rhode Island and New York. To read more about Curio Spice Company, Art of the Harvest and to follow Claire's blog, Aromatum, click here.
Follow Curio Spice Co. news and travels on Instagram @curiospice.