"After that, I started making ice cream at home with a small ice cream maker someone gave us for our wedding. I would make it all the time. And I loved it."
Kristen Rummel and ice cream first met only a few years ago at Oleana. This was real ice cream. Small batch ice cream. Corn ice cream, that night. She remembers thinking, "Wouldn't it be incredible if you could go to the grocery store, and buy yourself a pint of corn ice cream?! After that, I started making corn ice cream at home with a small ice cream maker someone gave us for our wedding. I would make it all the time. And I loved it." She didn't realize it at the time, but this seemingly simple dessert sparked the beginning of Honeycomb Creamery.
The first time Kristen and I sat down to chat last winter, we got lunch that consisted of absurdly large paper cones full of french fries (yup, nothing else. Just french fries and beer.... because we're adults), and we talked about everything from the struggle of taking the perfect photograph of your own hand holding food (how do you people DO IT?!) to small business dreams to, of course, ice cream! Kristen is highly knowledgeable about all things dessert, and on the day we met up for this interview at Honeycomb Creamery's new prospective location in Cambridge(!!)-- more details on that below-- she was like Mary Poppins, unveiling ice cream sample after ice cream sample from her bag.
Originally from Wilmington, Delaware, Kristen moved to Boston after she graduated college to be with her now-husband, Rory. In college, she studied Language & Literature in Spanish, French and English, then started working at Boston Children's Hospital to be a medical interpreter in Spanish. It didn't take Kristen long to realize that this work didn't feel fulfilling.
"When I first moved to Boston, it was my responsibility to find an apartment for Rory and me (Rory was living in Ireland at the time). So I came up here during my spring break in college, and I was driving around with this realtor for hours, and during one of our conversations, he asked me about my dream job. And I responded, 'Oh, well, I'm studying to be a medical interpreter.' But then he asked, 'No, but what's your DREAM job?' And I said….'I think it would be so awesome to run my own restaurant or bakery. I really love baking.' That was the first time I said that out loud. To anyone! And without skipping a beat, he replied: 'Oh there's this place called Clear Flour Bakery, I'll drive you by, and they're hiring right now.'"
I didn't clarify with Kristen, but I'm uncertain as to whether or not this realtor had pointy elf ears, or vanished into thin air like the little spirit guide that he was, after their conversation….
Kristen worked at Clear Flour Bakery for nearly three years. For those of you not familiar with it, Clear Flour is a petit boulangerie tucked in a residential side street in Brookline. They focus on making authentic breads from Italy and France using simple ingredients. Clear Flour could be easily overlooked were it not for the lines of people forming outside the door nearly every morning. It was originally founded by Christy Timon about 30 years ago, and is still owned and run by Christy and her husband, Abe Farber.

"[At Clear Flour] they have all these artisan breads stacked on antique metal shelves, and a beautiful pastry rack, and pretzels hanging in the window. It was really profound being that close and that connected to what was being put out on the shelves. It wasn't like opening packaging, and microwaving, and plopping it on the shelf… And I thought, this is so amazing! I learned a lot at Clear Flour, but I eventually realized I wanted more of a solid foundation, or rather, to reinforce that I knew what I was doing. It's one thing to think: 'this tastes good!' It's another to understand exactly why something tastes good. So I went to The Cambridge School of Culinary Arts and completed their certificate program in pastry."
As part of the program, all the students were tasked with building their own restaurant. Kristen built a bakery + bar concept that had a variety of breads and pastries, cocktails and local beers. Though she was feeling really positive about her concept, Kristen couldn't help but think that she had no desire to run a huge restaurant with some 50+ employees. Her ideal scenario was something much smaller-- maybe 4-5 employees. She wanted that close family-feel.
After Kristen completed her certificate, she was hired as a Kitchen Manager at Union Square Donuts, where she worked for a little over two years. "I started working at Union Square Donuts because they were a brand new company, and I knew it would be a great opportunity to learn-- and it was! What I also learned from them, and other small businesses where I had worked, was that nobody truly knows what they're doing. You just have to have the courage and the confidence to say: "I'm doing this." And the summer before Honeycomb Creamery officially began, Kristen went on vacation to Key West, and had time to think and talk about her ideas out loud with family. She remembers thinking, "I'm just gonna do it."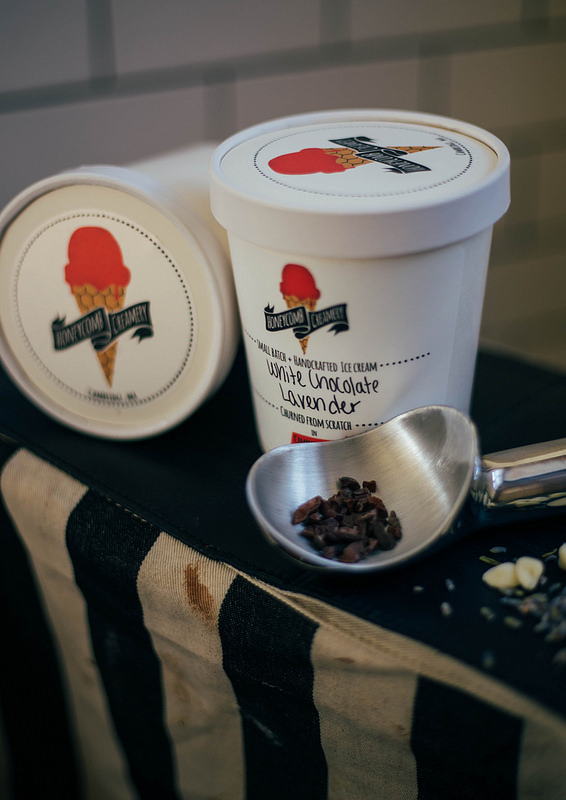 After nearly a year of being in business, Honeycomb Creamery continues to make all their ice cream completely from scratch: they source their cream from Mapleline Farm in Hadley, Massachusetts, pasteurize their own base and are able to customize each ice cream flavor the way that they want (vegan options too!). To put that into perspective, most existing ice cream shops in the country order a pre-made base that is already pasteurized, and then simply poured into an ice cream machine. Because Kristen spends the time to pasteurize and churn everything herself, each batch is unique.

Honeycomb Creamery specializes in delightfully atypical flavors. Kristen pulls inspiration from her everyday life whether she's wandering the aisles of the grocery store, or taking in ideas from books, articles, etc. Any combo that sounds appealing, Kristen is willing to give it a shot! "I was recently reading an article that said chocolate and blue cheese go well together, but when I tried heating the blue cheese, I think that messed with it, chemically, and it didn't quite turn out as planned. Then at one point, I tried chocolate and mustard seed! The savory ones are fun, but you don't necessarily think, 'I'm going to eat a giant bowl of this ice cream!' They're best in small servings." Kristen is on a mission to inspire people to try new things.

"Whenever I go to farmers markets, I still always bring Brown Sugar Vanilla Bean and Chocolate Toasted Coconut, because people have previous experience with these flavors. I did a Spiced Pumpkin Sage flavor for the fall, and people were interested to try it, but then they would buy a pint of the Brown Sugar Vanilla Bean, even if they didn't sample that one. I think that New England, as an ice cream-obsessed region, is generally loyal to the standard flavors: Vanilla, Chocolate, Strawberry, Coffee... One reason I really wanted to open a shop is so I can set the tone for what to expect when you come in here, versus a market that doesn't set the stage for unique ice cream. People think, 'Oh, it's a cute ice cream cart at the farmers market,' so they're expecting those classic flavors."

And finally, you may be wondering about the name: Honeycomb Creamery. I thought you'd ask! It does not mean that their ice creams are honey-based, or that all of their flavors contain honey. Not at all, in fact! The name was inspired by Kristen's combined love of ice cream and language: ice cream is served in a waffle cone, right? Well, the word waffle, originates from Middle Dutch or Middle Low German wafel, which originates from Proto-Germanic wabila, which translates to honeycomb.
Ice Cream Tasting
Second breakfast is a beautiful thing, and even better when it consists entirely of ice cream. Kristen and I sat cross-legged on the floor, and sampled seven of her current flavors, including Grapefruit Rosemary (Vegan), Cardamom Apricot (Vegan), White Chocolate Lavender, Stilton, Salty Honey, Chocolate (Vegan) and my favorite of the day: Blood Orange Chipotle, which was citrusy, slightly smoky and had a subtle spicy kick at the very end. A bit like this:
The next step for the Honeycomb Creamery journey is huge. HUGE! To reach out to the residents and members of the Cambridge Community, Kristen and Rory are hosting an Open House in their prospective location at 1702 Massachusetts Ave. in Cambridge this Tuesday, April 5th from 6 - 8pm. They'll provide more information about their hearing (tentatively scheduled for April 14th) and their plans for the shop. They will be available to answer questions, respond to concerns, and serve samples of some of their ice creams(!!). Be there if you can!!
In the meantime, you can order Honeycomb Creamery pints to be delivered to your door here, or you can say hello at one of many local farmers markets.
Follow along on Instagram @honeycombcreamery to stay updated on their prospective shop and to find out about new, seasonal flavors!